The Wold family from Skoger, near Drammen Norway
The surname WOLD originates for our family with my great-great-grandfather Jørgen Oleson Wold who lived in the Skoger area (near Drammen) on farm Tørjevollen having been born and lived previously on farm Imjelt. Perhaps Wold was an Americanization of Tørjevollen since he did emigrate briefly to Florida.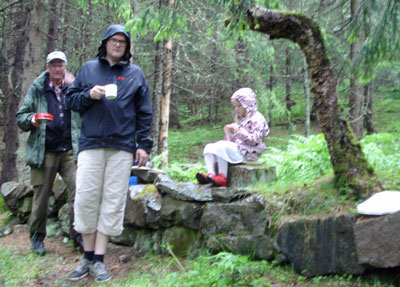 The Munson family descends from his daughter Maren and we are in touch with descendants from four of his other eight children. Kitty recently visited the ruins of Tørjevollen with friends and two descendants of daughter Olava, Torgeir and Annea seen in the picture to the left. Click here for the full photo gallery from that visit.
 Our ancestor  Jørgen Oleson Wold had a German g-grandfather, Christofer Rausch who was apparently an engineer come to work on the Skoger mines (see http://konnerudgruvene.no/ for more about the Konnerud mine). He married a local girl and stayed. His granddaughter had  Jørgen out of wedlock but apparently married the father some ten years later and had three more children. We are actually in touch with some of their descendants.
There is a forum posting about this family in Norwegian here: http://www.disnorge.no/slektsforum/viewtopic.php?p=577419#577419
The farm Tørjevollen was in Skougar (now Skogar), Buskerud near Drammen Norway. Skoger is actually on the border of Vestfold and Buskerud counties and older records for it will be under Vestfold.  Note that "W" in Norwegian is pronounced the same as "V" in English.  Jørgen Oleson Wold took that surname,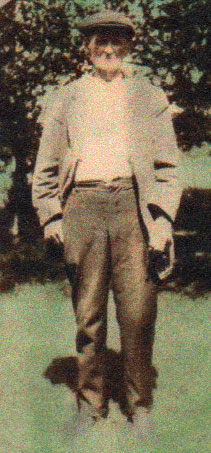 probably when he emigrated to America in 1868. He did not stay in America but his daughter, our ancestress Maren Wold did stay and she married Henry H Lee (see his story for more about Maren aka "Mormor" and also this newspaper article). Her brother  Jørgen's son Carl, pictured on the left, went out to Wisconsin, married many times, and has many descendants, some of whom we are in touch with. Her other brother Herman went with Carl but died in a logging accident quite young thus had no children that we know of.  Jørgen's son Martinius went to Drammen where he worked in a carriage factory and later had his own carriage shop. He died in an accident there and subsequently his wife and children emigrated to the USA. We are in touch with one of his descendants who lives in Texas and supplied us with much ancestry information and the pictures of Jørgen and his wife Anna and another descendant who lives in Oregon (the Larum family). We are also in touch with some of the descendants of Olava Wold who stayed in Norway. See my blog post about visiting with cousin Rønnaug, descended from his wife Anna's brother Peder Stallane, and hiking to Tørjevollen.
In the Skougar farmbook (Folk og fàr, by Skoger historielag) we find the address of the farm where the Wold family lived and a description:
Plass 50: Tørjervollen. (Plass = the little farmhouse and field where the farmhand and his family lived).
Tørjevollen - or Torgersvollen/Terjevoll as it also has been called is a very old place. It is situated towards south-east in Rønnehue hill. Today the place is overgrown and situated in an old foot-path half-way between Rønnehue and Stallane.

Visit to Torgevollen by some Wold descendants and guide, June 2015
Even today the path can be difficult to follow, but if one uses the road through the wood to Tørjevollsfråa, where Tryttjerbekken and Raubekken (two streams) meets, one can find the outline of the place 300-400 meters up in the hillside of Rønnehue hill. In the rapids of the stream below it was once an old sawmill.
Also known as Jørn, he also went to America together with his children Maren, Brigitte,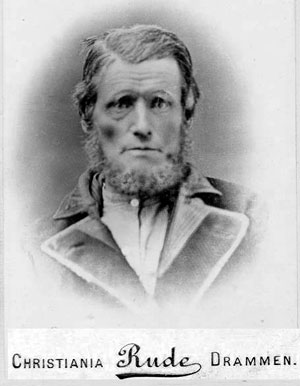 Sopie and Herman. At that time they travelled by sailships, and the voyage lasted for 7 weeks. It is told they brought with them something like rusks (skonrokk) for food.
Click here for the full translation 
Click below to see Jørgen's family group in the 1865 census (before he took the surname WOLD he was known as Olsen since his father was Ols) from Skoger Municipality number: 0712 Name of domicile: Torgervolden http://www.rhd.uit.no/folketellinger/ftliste_e.aspx?ft=1865&knr=0712&kenr=003&bnr=0087&lnr=00
Previous page:
The Wold family from Skougar, Buskerod
Next page:
Jorgen Wold family from the Skogar History book