Anna Skjold Stephenson from Dr. Craig Stevenson's History compiled 1984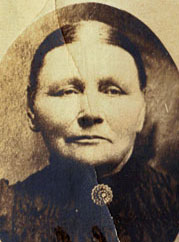 Lars Fjaere Stephenson, son of Stephen Larson Fjaere and Guro Amundsdotter Glonio, was born on July 31, 1828 in Skanevik, Norway. On July 24, 1860 at the age of thirty-one Lars married Anna Skjold Halvorson at the Lutheran Church in Skanevik. Anna was born September 14, 1832 in Skanevik. The young Lars probably worked as a farmer and fisherman, as did most males in that area. Lars and Anna's first child Stephen was born on August 16, 1863. According to family tradition, he was named after his paternal grandfather. A year and a half later, on January 12, 1865, a second child was born. She was named Martha after her maternal grandmother. On March 28, 1867 a third child was born. She was named Guro (Norwegian for Julia) after her paternal grandmother.
Throughout these early years of their marriage in Norway, Lars and Anna probably heard a great deal about the wonderful opportunities in America from close relatives. Lar's two sisters (Kari and Sin) had gone to America with their families in 1857. The Haalands (Anna's aunt, uncle, and cousins) had been in America even longer--since 1846. However, the early 1860's were not happy years in the United States. The War between the States had become a bitter confrontation and no end to the bloodshed was in sight.
Many of the new immigrants were involved in the fighting. The 36th Illinois Infantry was comprised of Norwegian immigrants from the Newark, Lisbon, Millington, Ottawa, and Sheridan areas. Their commanding officer was General Phillip Sheridan and the 36th was called "Sheridan's Pet Regiment." The 36th Infantry fought bravely in several battles of the western theater, including Stone River, Chickamauga, and Missionary Ridge. Because the majority of the 36th's men were immigrants, officers of the regiment were required to speak both Norwegian and English.  John H. Thompson, who later married into the family, as well as his brother Ole fought with the 36th Illinois Infantry.
The War between the States, which had limited immigration, ended in April of 1865. In 1866 a great wave of mass immigration from Norway to America began. Among the reasons for this mass exodus were the poor economy in Norway, a population explosion, religious persecution, and the dreams prompted by the fantastic tales received from friends and relatives in America. In the remaining years of the nineteenth century 750,000 Norwegians immigrated to the United States. Only Ireland lost a larger percentage of its population to the new country. During the nineteenth century, only 46% of the increase in the Norwegian population remained in Norway.
In the the spring of 1867 the Fjæra family had their chance to come to America.  Lars and Anna and their three children--Stephen, Martha and the newborn Julia boarded the ship Fredrik Petersen in Bergen on May 6 and arrived in Quebec, Canada on June 6.  Traveling with them were Lars two unmarried sisters, Valborg and Guro.  Lars' mother, Guro was also with them (Lars' father had already passed away).
In The Distant Magnet: European Emigration to the United States, Phillip Taylor comments that those planning to emigrate made extensive preparations: "Norwegian farmers's wives, daughters, and servants worked through the winter making clothes. Neat was salted, bread baked, cheese prepared, and butter packed in kegs. The men spent their time making huge wooden traveling chests with iron bands and locks."
Initially Anna worried that the long trip would be too hard on the infant Guro, who was about 5 weeks old at the time of departure. However, Lar's sister and mother promised they would help Anna care for the baby. Unfortunately, they all became so seasick that they were not able to help very much. The trip lasted six weeks, which was considered excellent time. In the spring the prevailing winds were at the back of the ships and increased their speed. Anna later told her grandchildren that all she saw on the trip was "himmie og vann"--sky and water.
One near tragedy occurred during the voyage. Anna, who had been nursing Guro, lost her milk because of the stress of the trip. There was no milk on board the ship and Guro was still too young to take solid food. It seemed the infant would starve, until, in a desperate attempt to save the child's life, Anna wrapped a small hunk of bread in a cheesecloth and shaped the bread into a nipple. She dipped the bread in water and fed the infant in this way. Even though she lost weight, Guro received enough nourishment to stay alive.
From Stavanger to Quuebec, then a steamship to Chicago. Then 60 more miles to Kendall county where Lars already had family.
If the weather didn't cooperate, travel across the Great Lakes could be treacherous. While the lake steamers had comfortable cabins, most immigrants traveled in steerage, which had three tiers of double bunks fitted with curtains. The deck outside was usually piled high with so much baggage that only a narrow passage was left between them. This phase of the trip could take a full week.
In Chicago, the Stephenson party still had almost sixty miles to cover. They may have walked, hired a wagon, or purchased seats on the stagecoach that ran between Chicago and Ottawa and passed through Newark. Shortly after their arrival in Kendall County, Lars moved the family to a farm located one half mile south and one mile west of Helmar on what is now Newark Road. The farm was situated just east of Lar's brother-in-law, Austin Larson, and one quarter mile west of another brother-in-law, Nels Larson. Lars worked as a day laborer on neighboring farms, but trying to support a family on the salary of a day laborer was difficult. Usually the family ate lard on their bread because butter was too expensive. During the years from 1867 to 1870, the Stephensons accumulated personal property worth one hundred dollars. They owned no land and no one in the family spoke English.
More children joined the family in these early years. On September 17, 1869, a son, who was named Halvor (Oliver) after his maternal grandfather, was born. Anna Carena Stephenson was born on March 9, 1871. Another son, Henry Lewis Stephenson appeared on December 29, 1872; and on October 31, 1875, Iver Asmund Stephenson completed the family.
Some details about the family's early years are known. The young Stephen contracted typhoid fever and was quite ill. When she was five, Julia fell into the well while her parents were working. Somehow she managed to hang on to the sides of the well until her parents returned and rescued her. After the Chicago fire of 1871, Anna was able to buy bolts of cloth from Jewish peddlers at a bargain. The bolts had scorched ends where they had been damaged by the fire.
The only education the Stephenson children had was parochial school. In their early teens, the boys began work as farm hands and the girls left home to work as housekeepers.
Pages about each child are also on this site:
On March 3, 1879 Lars Stephenson purchased an eighty-acre farm in the north part of Saratoga Township, Grundy County. The farm was located one and one half miles east of Route 47 on what is now Sherril Road. The purchase price of $80 per acre involved a $3,800 down payment and a $2,500 mortgage. Gradually the children grew to adulthood, married, and set out on their own. (Their adult lives are detailed in the following sections of this history.)
On March 26, 1903, Lars and Anna sold their farm and retired. They purchased a home in Helmar, directly south of the church. At this time, their son Stephen rented the farm from the new owner.
On June 24, 1910, Lars and Anna celebrated their fiftieth wedding anniversary at a family gathering attended by their children and grandchildren, the Eric Hollands, the Ben Hackersons, and others.
At the age of seventy-nine on September 7, 1911, Anna Stephenson died. Julia Chally and Edna, who were with her, remember that she was able to sing hymns right up to the moment of her death.
After his wife's death, Lars moved to the home of his daughter Julia Chally. For the next ten years, Lars lived in the homes of his children. He was quiet and got along well with everyone, spending much of his time rocking and chewing tobacco. He never changed the frugal habits he had developed during the lean years on the farm. For example, he would chew a plug of tobacco until he was tired of it. Then, rather than throw it out, he would place it in a silver container to be saved and chewed again later.
On September 3, 1921 at the age of ninety-three, Lars passed away at the home of his son, Steve, in Newark, Illinois. He is buried next to his wife Anna in West Lisbon Cemetery.
Previous page:
The family of Anna Skjold Stephenson
Next page:
Stephen Stephenson from Dr. Craig Stevenson's History compiled 1984