Siegfried J Thannhauser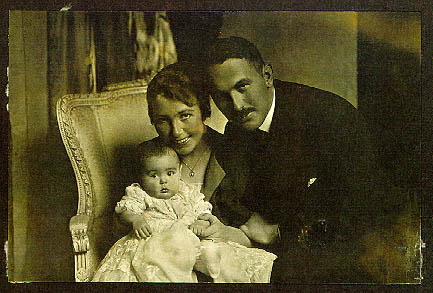 Siegfried J. Thannhauser was born in 1885 in Munich, the only child of a very wealthy Jewish family. He went into medicine, rather than commerce like his ancestors. He got two doctorates, one in Medicine and one in Chemistry. He was successful in both his private practice and as a professor of Internal Medicine at the University in Freiburg im Breisgau . He believed strongly in combining practicing, researching, and teaching.
    He married a very pretty, intelligent Catholic woman, Francesca Reiner, after a nine year courtship (neither family approved and WWI intervened where he worked as a doctor at the front). They met at the Automobile Club ball in 1909 of which she was made Queen. At 50, due to Hitler's policies causing his dismissal for being Jewish and Fanny's urging, he moved with his family across the Atlantic to Boston to take a post at the Tufts Medical School.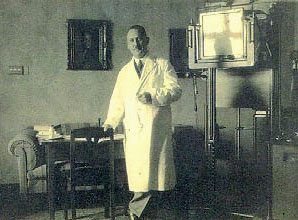 He is known for his work on lipids , diabetes, and gout. His authoritative book on Metabolism was required reading in German medical schools for many years. His well-known book, in English, Lipidosis, Diseases of the Cellular Lipid Metabolism , Oxford University Press, Oxford 1950, is still available used. His many articles and research are still cited even on the net. 
    A biography of his life was written for the Falk Foundatation , Siegfried Thannhauser (1885-1962) Physician and Scientist in Turbulant Times by Alan F. Hofmann and Nepomuk Zöllner. That foundation presents the Thannhauser-Medal and Thannhauser-Prize alternately every two years in his honor. 
    There is also a chapter about him in the book, The Jewish Doctor : A Narrative History by Michael Nevins, M.D.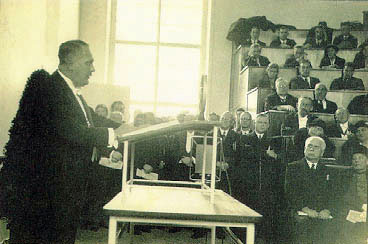 Siegfried Thannhauser lecturing in Freiburg
I also wrote a little paper on him and our Thannhauser family from the point of view of art collecting here: http://Thannhauser/ThannhauserArtCollecting.pdf
Previous page:
World War I service and photos by Siegfried J Thannhauser
Next page:
Courtship of Siggy and Fanny and their Emigration