Henry's recollections of his mother and the accident
At this time we lived in Brooklyn at 357 Ovington Avenue which was also the Munson School of Music.  One year my sister Wiggles, Binks and I all got Diptheria which was more serious then.  Also my Mother had lost one or two brothers because of it.  Of course we couldn't stay at home because of possible contagion with scores of pupils coming there every day.  So we went to the King's County Hospital - a public one, which worried me but it turned out to be excellent and we all recovered in time.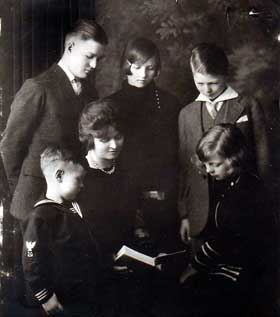 But Mother now insisted that we have a house separate from the School and in the country.  So Dad bought a house in Garden City, 117 Meadbrook Road, in late 1927 or early 1928. Mother was thrilled buying furniture, etc.  She had excellent taste and the house was her dream come true. [ed note: according to Zillow the house at that address was built in 1927 so the original house is still there, click address above for google map to it]

Then tragedy of the worst kind struck.  It was the Spring of 1929. We had been in Mother's dream house a year or 18 months. Dad had our Studebaker checked out at a Service Station and they returned it with a note saying that we should bring it back as soon as possible as the brakes swerved badly to the right.  Dad put the note in his pocket without reading it as he thought it was the bill.
[photo 1929 back:Alex, Marian, Henry, front: Binks,Mother(Anna), Wiggles]

Anyway they asked me to drive them to the LIRR station at Stewart Manor as they had missed it at Garden City.  Naturally I had to go fast to catch the train.  It was raining and when I put on the brake to make the turn to the station we swerved sharply to the right and turned over a couple of times and crashed!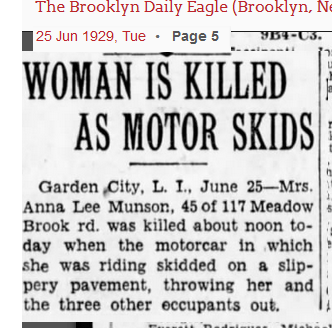 People were wonderful.  I particularly remember a minister - he was a son of Bishop Stires - stopped and stayed with us. An ambulance came for Mother and Marian. Marian had a gash on her arm but was OK.  Dad and I followed them to the Mineola Hospital.  After a while Dad came back to me and said, "Mother's gone." During the nightmare he found the note from the Service Station and showed it to me. He said, "If only I had read it this would not have happened."
[notice that the newspaper clipping has the address slightly wrong]

Mother was the soul of our family.  Beautiful, charming, intelligent and really the business brain in the family too.  She was fanatically religious with extreme Norwegian Lutheran Evangelical strictness.  Dr. Trexler, one of Brooklyn's most prominent clergymen, said of mother:  She was the kind of lady who would have made an excellent First Lady of the White House. We were all devastated. We couldn't go near Cragsmoor for a year or two.

On top of that a few months later, November 1929, the famous Stock Market crash took place.  Many people jumped out of high story windows and 12 million became unemployed. Naturally our house was mortgaged, a 1st; and a 2nd mortgage given Dad by a Jewish friend of his, Mr. Cooper.  It was for $2500 which was then a lot of money.  But when Dad explained the situation to Mr. Cooper, he said, "Never mind about my mortgage.  I have enough money."

In 1930 I entered Rutgers University and Dad was able to help me a little for the first year.  By the summer of 1931, however, he told me he couldn't help me any more and the bank foreclosed our house. Mother's Dream house was gone. Marian gave up Simmons College and dedicated herself to helping all of us. Marian, Wiggles, Binks and I took an apartment in Garden City.  Alex was already married. I remember Wiggles was so economical that we lived on $1 per day.

Dad would visit us once a week and six years later he remarried and I was his best man. Wiggles and I spent a week getting Five Oaks ready for their honeymoon.

Dad was a sweetheart.  He was kind and had a good sense of humor. He was very distinguished and an excellent musician (piano and organ). He completed his musical training in Paris.  He was a good speaker and I was always so proud of him when he was on a platform speaking or performing. He was really the cultural leader of the Norwegian-American Community while Dada was probably the out­standing business leader.

Dada was a generous contributor to the Norwegian Lutheran church and the Norwegian Lutheran Hospital.

I managed by waiting on tables at Rutgers and working summers at the Cragsmoor Inn (plus some scholarships) to finish the next 3 years and I graduated in 1934.  I was President of my Junior Class and President of my Fraternity, Delta Phi.  I was particularly proud to be made a member of the Honor Society "Cap & Skull."
Previous page:
Henry Munson's Recollections of Cragsmoor
Next page:
Henry Munson's First Job after Rutgers