Skjold farm as translated from Etnesoga II
For an account of Kitty's visit to Skjold in June 2015 read that story on her blog.
This document was translated from the Etnesoga II Norwegian farmbook as per Lee Munson.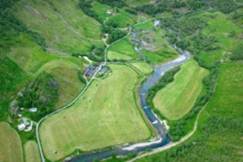 As usual the ancestors of Henry (Halvorsen) Lee are in bold.
Original Norwegian pages:

(photo courtesy of http://www.etne.kommune.no/?cat=147990&folderid=62927)
Land Register No. 61, Skjold
At Skjold (pronounce skjoll) the piece of armor called a shield, is used as a place name. Most frequently, names of this kind refer to open, flat or round forms in the landscape. Guesses have been made as to where the "shield" could have been on this farm: was it the wide, flat floor of the valley or the round knoll below which the courtyard was situated, - the shield bulge?
In the Middle Ages the farm belonged to the bishop in Bergen. In 1537, it was crown land. Then the king sold it in 1662, the lease holder purchased it and became its owner. The farm, on the whole, has remained in ownership since then. The land rent ca. 1600 was 2 pounds or 2/3 laup of butter, but in 1667 it was set at 1 laup 6 merker (old unit of measurement). However, damage caused by landslides resulted in that the lowest and the oldest rent or tax was used when negotiating a purchase or a sale. Here, as on so many other farms in Stordal, heavy damages had been suffered at the turn of 1743-44. The rising waters of the Stordal river had buried a lot of good pastures. But the worst occurred near the flood bed at the eastern end of the farmland. The flood carried large amounts of sand and stone over the meadows and a huge landslide, following the flood, had ruined a lot of farmland. During the calamity, one quarter of all farmland and enclosed pastures were destroyed. The official property tax was reduced to 2/3 laup.

Jarle Skjold at the Skjold farm in 2015, photo by Kitty Cooper
= =
Already in the land register of 1667 an entry is made pointing out how easily the river could damage the land. Farmland was called a "ring." The seeding at that time amounted to 3 tunner and the herd consisted of 1 horse, 12 cattle and18 sheep and goats. In 1723, the land was called year water(?). Now, 5 tunner were sowed and 23 tunner harvested, and the herd consisted of 1 horse, 22 cattle and 12 sheep and goats. However, the higher figures of 1723, as compared to 1667 are due to the fact that Skjold had been taken together with the deserted* farm Hallaland east of Skjold. Also this farm belonged to the bishopric of Bergen, but it had not beensold in the 1660's. It was on the tax rolls for 2 pounds or 2/3 laup of butter. In 1667, it was said that this farm was operated by Skjold. It had farmland for 1-1/2 tunne of seed. In any case, the meadows were mowed and the hill pastures were used by the tenant farmer of Skjold. On the other hand, Hallaland had been "very much overrun by rockslides" and was heavily damaged in 1743. It is nevertheless possible that some of the many tenant farmers of the Skjold farm in the 1700's, may have lived at Hallaland.
Skjold had a mill at the river and an open milking place some 4 km away.
Operators
1. Helge Hakonsson, b. 1605 at Skjold, d. ca. 1670 at Skjold. He took over the farm in 1648from his father.His wife is Unknown. Child: ~Larta, d. 1692 at Skjold.
2. Jon Tolleivsson, b. at Norheim, d. 1665 at Skjold, was married to the daughter of Helge, but he did not arrive at Skjold before the 1660's. He let his father-in-law operate the farm, while he lived on his large estate. In 1666, he was assessed for landed property at Norheim, Ekrheim, Haland and Rame; he owned Skjold where he lived then and had apparently other parcels of land in Ryfylke.
* The word 'deserted' continued to be used even if such a farm had been put to use again. [ed note: the black death devasted the population of Norway by 2/3 in the 1300s and many many farms were left deserted]
Married to Marta Helgesdotter, d. 1692 at Skjold.
Children: a) Hakon, moved to Haland at Sandeid. b) Tolleiv, b. 1661, d. 1712 at Ektheim.
3. Torbjorn Larsson, b. 1641, probably at Hundseid in Vikadal, d. 1718 at Skjold, married the widow of Jon and is mentioned at Skjold from 1668. For many years he administered the land for the sons of Jon and was an important man in the parish. In his old age, it went downhill with him. Times had changed and he died poor.
Married 1) in 1667 to Marta Helgesdotter, d. 1692 at Skjold. Children: a) Lars, b. 1667, d. 1716 at Nernes. b) Siri, married to Torbjorn Austrheim. c) Jon b. 1671, d. before 1716 at Skjold, had a son Sjur, b. 1701, d. 1754 at Stodle. d) Guri, moved to Vikadal.
Married 2) to Johanna Bjornsdotter, b. 1648, d. 1718, at Skjold. no children.
4. Gotskalk Johannesson, b. 1681 at Kvinnherad, d. 1744 at Skjold.
He got a deed on the farm in 1718. Sjur Jonsson (see above at 3c) wanted to acquire one eighteenth part by alodial (freehold) right, but he never had the money for it. This was not the case with Gotskalk who, in 1733, bought half of Grindheim church with land for 30 ridlr; in 1743 he purchasedthe rest (p. 153 and 132). In the spring of 1743, during a drinking bout at Norheim, he was scolded a thief by Tolleiv Lauareid and welearn that this referred to a certain deal made at Ryfylke. In the following winter Gotskalk was ill. The new year started with tremendous precipitation and floods and landslides engulfed the farm. Gotskalk did not get up anymore. He died in February 1744. The estate was settled on 6/10/1744. Assets amounted to 456 rdlr., and the estate had no debts. The estate included among other things an eight-oar boat and a boathouse near the lake (at Kyrping?) and a four (or six)-oared boat in the water. A tenant farmer's house stood on a meadow at Skjold. The herd consisted of 16 cows, 5 oxen, 14 calves and heifers, 31 sheep, 32 goats, 10 pigs and 4 horses. As far as we can see this was the winter herd. Seed grain is not mentioned.
married to Brita Olsdotter) b. 1677, d. 1754 at Skjold. She was the widow of Ola Olsson Vagen at Rkra and had several children from this marriage.
Children: a) Anna, b. 1713, d. 1784 at Tveito.
5. Tor Rasmusson, b. 1719 at Frette, made an agreement in 1744 with the widowof Gotskalk: he would operate the farm for 12 years and pay her an annual pension of 6 "vag" (1 vag = abt. 39.5 lbs) of oats and feed for 1-1/2 cow and 8 sheep. She knew that after 12 years her grandchild Gotskalk at Tveito would be 20 years old and old enough to take over. It happened the way she had thought it out and in 1756, Tor moved out.

Kitty touches the old Skjold farmhouse where her great grandfathe H H Lee was born,June 2015
6. Gotskalk Halvardsson, b. 1735 at Tveito, d. 1802 at Skjold. He received the deed to the farm for 32 rdlr., in 1752. In 1756 he got married and took over from Tor Frette. He was a very good bear hunter. At the council in l763 he collected a bounty of 2 rdlr., for a large bear he had killed on the Oyfjell (the Oy mountain). In 1766, he came back with two thick skins. In 1775, he received another 4 rdlr., for two bearshe had killed. Together with bailiff Kristen Frette he engaged in horsetrading on the Roldal market, but got into a dispute with his partner in 1779 (p. 115). In 1787, we learn that he had returned to Roldal (p. 116). Gotskalk purchased one half of Grindheim church from Rasmus Overnes in 1770. As a church owner, an often called upon appraiser of estates and a parish representative with the board of supervisors of the parsonage, he belonged to a small group of men who occupied the most outstanding positions in parish government at the end of the 1700's.
Married at Holmedal in 1756 to Ingeborg Haktorsdotter, b. 1736 at Lveit at Holmedal, d. 1821 at Tveito. Children: a) Hallvard, b. 1760, d. 1761. b) Anna b. 1763, d. 1822 at Bjaorgjo. c) Ingrid, b. 1768, d. 1831 at Skjold. d) Brita, b. 1771, d. 1803 at Rzmsvik. e) Hallvard, b. 1776, d. 1779. f) Ingeborg, b. 1780, d. 1853 at Br511Om.
Tenant farmers
[… section not included …] 
Previous page:
The Skjold Family from Etne, Norway
Next page:
Tveito Farm from Etnesoga II