Marian recalls Cragsmoor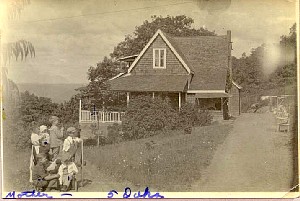 Reminiscences must include Cragsmoor where we spent our summers from 1911 until we were grown up. It is a beautiful spot in the foothills of the Catskills. The mountains are called the Shuangunks. Through the influence of the Mumms who lived next door to us on 8th Street, we rented a cottage in Broadhead's Grove the summer before Henry was born. The next summer they rented the lower cottage on the other side of the mountain, called "Five Oaks." It was a charming little house built on the side of the hill, with breathtaking views of the valley below. When Dad and Mormor came to visit, they loved it. It reminded Mormor of the mountains of Norway. There was another cottage up the hill, called the "Upper Cottage." When Dada heard that the cottages were for sale, he bought them, and had bathrooms installed. Before 1914, when Dada bought a Hudson touring car, we went to Cragsmoor by train to Spring Glen or Ellenville, where Georgie Wright would meet us with a horse and buggy. She was indispensable. She delivered milk to us from their farm until the law required pasteurization, and took an order for anything we needed. She would shop in Ellenville or Pine Bush, and deliver everything to us, first in her buggy, and later in her Model T Ford truck.
   There were two visits by the Norwegian Male Chorus. The first time, I was too young to know anything about their accommodations, but I remember that they wore white pants and blue coats and yachting caps. I can still hear them in my mind signing the Soldiers' Chorus from "Faust." It was the first time I had ever heard it, and I have loved it ever since. Their next visit was some years later. Dada invited them and their families without first consulting Mormor. By that time, he had bought the Lee Vold Lodge, so I guess he figured that there would be plenty of room, but Mormor, Aunt Helen and Mother slaved for days making bread, cakes, pies, potato cakes, etc. to feed everyone, on kerosene and wood stoves! The Lee Vold Lodge was a summer hotel, formerly known as The Savoy House. It had been unused for a while when Dada bought it along with enough land to give him about 80 or 100 acres altogether. He had two nieces, Helen Lee and Mrs. Anna Larsen who were the daughters of the older brother who had befriended him when he was orphaned as a child. He arranged for them to run it as a summer hotel. We had many good meals there, and afternoon coffee on the big porch was a treat. We didn't drink coffee, but we could share the goodies.
   Dada enjoyed driving his big car to Cragsmoor for weekends. He would arrive with a carful of people. He always brought lots of fruit, watermelons, honeydew, plum, and often presents for us grandchildren. Mormor (which is Norwegian for Mother's mother) stayed at the upper cottage much of the time. Aunt Helen and Burton came sometimes, but Uncle Oscar didn't care for it.
   Life at Five Oaks was delightful. Sometimes Mother and Dad would get us into the living room and teach us children's songs, some of which I still remember, and also hymns like "Angel Voices Ever Singing", and "Thou Didst Leave Thy Throne". In the summer time, Dad (whom we called Papa until we grew older) had more time for practicing the piano. I enjoyed hearing him play. Whenever I hear those pieces now, I am reminded of those beautiful days in Cragsmoor. On Sunday evenings, people from the Lee Vold would come and fill up our living room and porch listening to Dad play. He seemed to play anything they asked for, but he made a specialty of improvising his own arrangements of Norwegian folk tunes. In the years before we had electricity, other evenings would find us sitting around the dining room table reading or playing games by the light of an oil lamp.
   Alex did a lot to make our summers memorable. He always put up a big swing, which we all enjoyed. Most of the time it was in the big oak tree for which the house was named, but once he put it in the woods and had to make a high platform to "take off" from. Sometimes we had friends like the Larsens staying at the upper cottage or the Lee Vold, and Alex would organize wonderful games like Ringalevio. That was played with two teams. One was the hunted and one was the hunter. In Cragsmoor we had huge boundary lines. When someone was caught, he was put into a base of some sort, but he could be freed by a member of his team running through and calling "Ringalevio". Some evenings, people came from the Lee Vold to play games and enjoy a bonfire, and roasted marshmallows and watermelon. We played "Jacob and Rachel" where two people were blindfolded, one with a bunch of keys, or something else that would jingle. Everyone else made a ring around them. If Rachel had the keys, she would shake them and then run in a different direction when Jacob said "Rachel, Rachel, where are you, Rachel?" It was amusing to see the near misses and collisions until one caught the other. Another game we liked was "Last Couple Out". Couples formed a line and the one who was IT called "Last couple out". The last two people would run around the line and try to catch each other before IT caught one of them The one not caught would then be IT.
   We were sometimes asked to show visitors the way to Bear Hill, a cliff overlooking our side of the mountain. It was a breeze for us, but grown-ups did a lot of huffing and puffing. When we got to the top, we thought it was fun to run ahead and jump down to ledges that we knew were there, terrifying our guests. When Alex was a teenager, he and his friends would shoot off fireworks from Bear Hill after dark on the fourth of July. It was beautiful.
   Before Lake Maratanza was made into a reservoir for Ellenville, we had some wonderful picnics there. There were four lakes on the ridge that starts with Sam's Point: Maratanza, Awosting, Minnewaska, and Mohonk, all of them beautiful. When we went to Lake Maratanza, we would change into bathing suits in the shrubbery – blueberry bushes and scrub oak – and swim and enjoy rowboats. There is an Ice Cave up there, too, which we enjoyed climbing into. When we could no longer use Lake Maratanza, we had picnics at Shady Lake in the valley.
Previous page:
Marian Munson Pasquet's(1910-1997) recollections of family life on 8th St in Brooklyn
Next page:
Marian remembers life at the music school