The Monsen family from Kristiansand in America
The progenators of the American/Norwegian Munson family were "Bestafa" -  Lauritz Christian Andresen (Mönsen) 1840-1922 and "Bestamor" - Josephine Halling 1844-1914. "Bestafa," known as Louis C. Munson in this country, a ship's carpenter, emigrated to the USA in 1883 and was able to bring his wife, "Bestamor," and their nine children (one adopted, not related) over in 1884. They took the surname Monsen (later anglicized to Munson) and lived in the Norwegian enclave in Brooklyn, NY.
Read this description of Munson family emigration and early life in Brooklyn from letters by Lawrence Josiah Munson (1878-1950) to Lawrence Shipley Munson (1920-).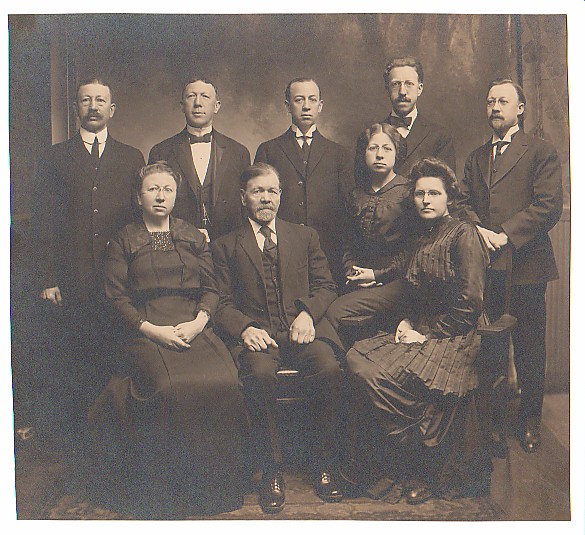 Munsons in 1914 (probably at the funeral of Josephine Halling Monsen in March that year)
top row: Andrew, Christian, John, Alfred, Lawrence seated: Inge, Lauritz, Gertrude, Josie
Previous page:
The story of the Monsen Emigration by L.J.Munson
Next page:
Monsens 1909