Brueder Thannhauser Beer Stein Company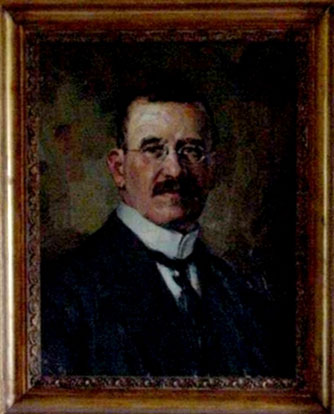 The family pewter beer mug lid making business of my great-grandfather Josef Solomon Thannhauser and his brother Albert was known as the Brüder Thannhauser, München or the geBrüder Thannhauser, München. The mark on the lids is often just B.T.M.
The family story is that Charlotte Langermann Thannhauser fixed up her sister Lina with her husband's half brother Albert to get more money into the family business from Lina's dowry.
The Stein Marks web site was kind enough to give permission to use some of their images on our site. They have a page dedicated to the Brothers Thannhauser from which some of the images below come. From reading that page, it would appear that this business expanded from beer mug lids to assembling the entire stein. In addition to ceramic beer mugs, they also made glass and pewter steins. Family lore is that Oktoberfest allowed 10% larger steins than the normal liter so Albert, who was a better salesman than a businessman, was sent to the festival to sell these larger steins.
The steins below are in the family today. On the left is a Brüder Thannhauser, München stein while on the right is a 17th century faience stein from Josef's collection, probably made by Schrezheim (click here for an relevant article at steven on steins)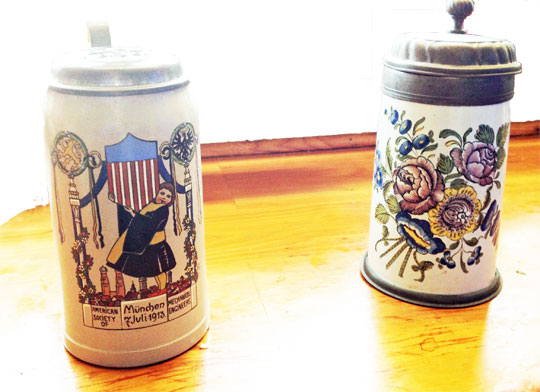 It certainly must have been a large and successful business as Josef was was given the title Kommerzienrat. Notice he is not listed in the names at http://de.wikipedia.org/wiki/Kommerzienrat - perhaps Jewish businessmen were removed during the Third Reich? Also his wife Charlotte was known somewhat derogatorily as the "chamberpot queen," according to her granddaughters, because the company also made chamberpots.
Here are some images from the Stein Marks web site:

G.Th.M. mark
B.T.M mark on a pewter lid
A typical B.T.M. stein
Previous page:
The Origin of the Name Thannhauser
Next page:
World War I service and photos by Siegfried J Thannhauser