The Art Dealer Thannhausers and Rosengarts descend from Mina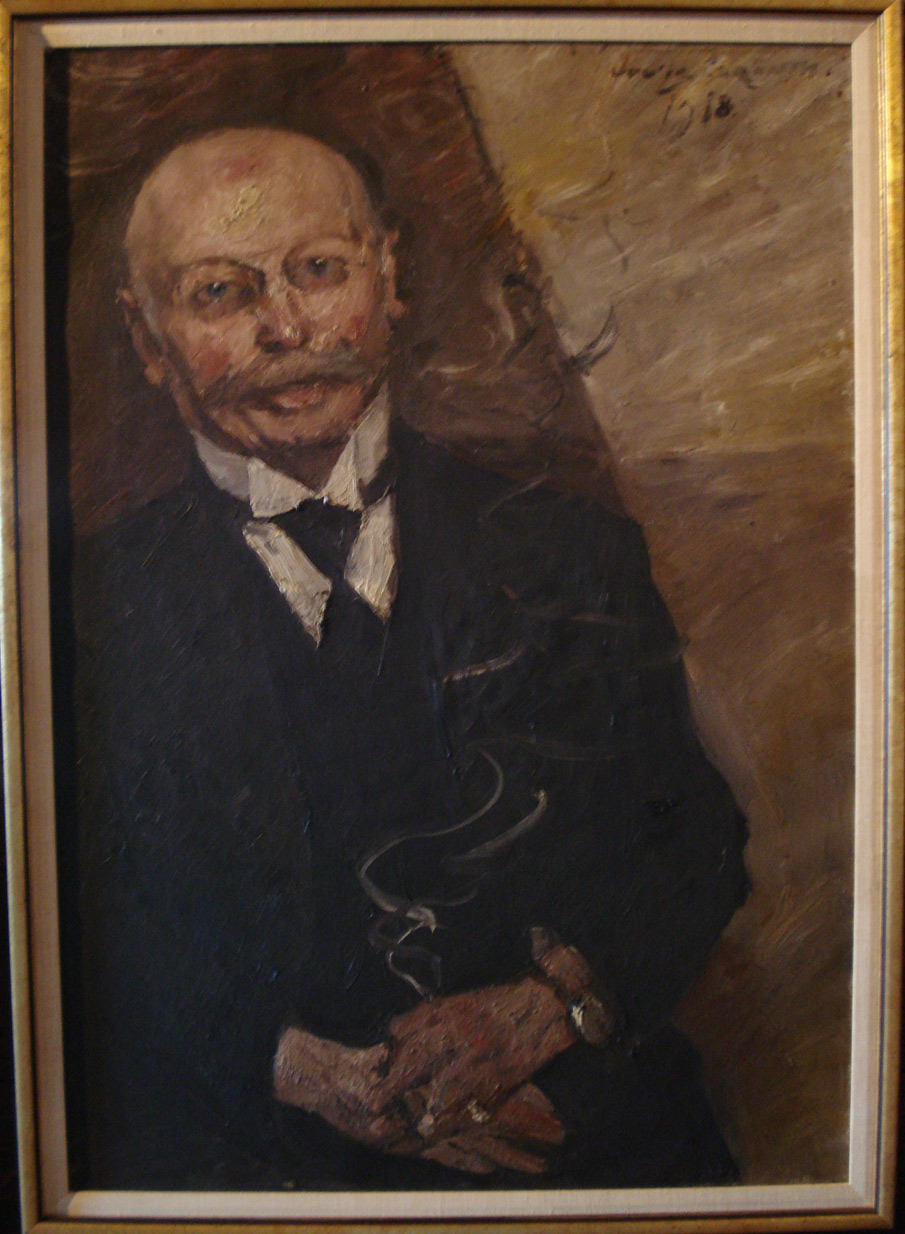 Heinrich and his son Justin Thannhauser are famous for their art dealerships and collections. So I have linked their names to the German wikipedia entries for them above while below the links are to their Geni entries. They are related to us because Heinrich's mother Mina was the sister of our Opa's grandfather Abraham. Thus Justin was Opa's 2nd cousin; since they both grew up in Munich, they were quite close. Since Justin had no living descendants, he gave his collection to the Guggenheim Museum. The article linked to has a great deal more information about them.
According to the daughters of Dr. S. J. Thannhauser, Siegfried did all Heinrich's and Justin's medical work at no charge and as a result he was given many fine works of art from their collections. Most of these are in museums today such as the Degas statuette and the Patineer.
Heinrich got throat cancer and had one of the first tracheotomies ever done. He survived but had a perminent traechiometry tube which he had to hold his hand over to speak with. This made a very hoarse voice which his great-nieces (actually 1st cousins twice removed) remember well. Eventually he died of cancer to the liver.
 Justin eventually moved to the USA and lived in NYC in the East 60s in a townhouse with his wife, little dog, and fabulous collection of impressionist paintings. Kitty remembers the dog and a wonderful Cezanne from her visits. Cousin Mark remembers Picassos in the bathrooms!
Sam Sherman, cousin Mitzi's youngest son, wrote a paper on the Thannhauser Galleries using the ZADIK archives and other original sources. He said that, " The documents that ZADIK was given by Justin were those that had been stored in a bank vault in Paris so were protected from NAZI theft." This report is now on our site at http://kittymunson.com/Thannhauser/Uncle Heinrich_Final.pdf
Here is the descendancy:
Michle (Mina) (b: b: February 04, 1828 in Moenchsdeggingen, Bavaria d: August 05, 1894 in Munich, Bavaria) married Jonas Thannhauser of Hürben (b: b: December 01, 1833 in Hürben, Schwabia m: March 22, 1853 in Hürben, Schwabia d: September 06, 1890 in Munich, Bavaria). They had five or six children:
Helene Thannhauser

(b: January 18, 1856)

Jette Thannhauser

(b: April 06, 1857)

Heinrich Thannhauser

(b: February 16, 1859 in Hürben, Germany)

married Charlotte Nachtigall

(b: June 08, 1870 in Nürnberg, Germany m: May 26, 1891 in Munich Synagogue )

they had one son, Justin (b: May 07, 1892, Munich; d: December 26, 1976, Berne, Switzerand), who married Kate Levi

(b: ~1890; d: 1959, NY)

, they had two sons:

Henry (Heinz)

(b: 1915; d: 1944 bombing Italy)

Michael

(d: ~1946, Reinbeck, NY)

.

Sara (Selma) Thannhauser (b: July 31, 1861 ) married Heinrick Rosengart. They had four children, two surviving to adulthood;

- Irma (1886-1969) who married Alfred Scharf, they had Ewald (died young in 1933), Werner(1916-2006) who lived in Santa Monica, CA and Kurt Scharf.
- Elvira (1888-1888)
- Sophie (1891-1908)
- Siegfried (1894-1985) who married Sybille. Siegfried and Sybille had one daughter, Angela Rosengart.

Pauline Thannhauser

(b: September 1864 )
Previous page:
Family Graves in the Munich Old Jewish Cemetary, ThalkirchnerStr 240
Next page:
The KUTZ family of Moenchsdeggingen