Journal of Lawrence J• Munson, 1900
[handwritten note at the top of my copy of LJM's journal: Marian found this diary of my father's going back to the beiginning of the 20th century Love Dad
This was typed up by Marian and now scanned in by Kitty]
Feb. 18th Sunday
Played my first service at the Emmanuel Baptist Church, Lafayette Ave. and St. James Place, Brooklyn. Have accepted the position tendered me here by Mr. Woodman as his assistant. Contract signed to May 1, 1901. I will play and have full charge and responsibility for every Sunday morning service. Mr. Woodnan himself will take care of the evening service. This he can do as the services in his own church, The First Pres., are held mornings at eleven, and afternoons at four o'clock.
Everything went well at my service this morning, arid as the organ is a very fine instrument, and the choir and quartet good, I am sure I shall like my work here very much, though it will be hard.
April 8th—Palm Sunday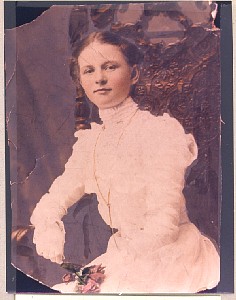 Work has been hard at the Emmanuel, but am taking much interest, and am doing my best. "Confirmation Sunday" today at the Norwegian Meth. Church, Carroll Street. Miss Anna Lee confirmed. All of us invited to her house for dinner to share in the festivities. On leaving the car at Court St. and 2nd Pl., I was highly delighted to meet the young lady, as she came in her beautiful white confirmation gown with a bouquet of flowers, and was glad to have the honor of escorting her to the house. Many friends were present and we spent a most enjoyable day. Mamma was unfortunately not well today and could therefore not be with us at Lee's, to her regret. Memory of this day will ever be fresh, I believe.
June 3rd—Sunday
Had good service at Emmanuel. Miss Anna Lee honored me with a visit to the church this morning. I have for some time invited her to attend. The day was smiling and beautiful and Miss Lee was in good accord with same.
June 17—Sunday
Our Y.P.L. had an outing in the wood on Ft. Hamilton Ave. and 44th St. An hour was given over to devotional exercises presided over by Godfried, at present chairman of the Society. Some games followed. Mr. Lee with his whole family was here. Learned of it being Anna's birthday today, and gave her a rose I had in my buttonhole. She told me of having been presented, by her father, with a bicycle. I congratulated her and expressed my joy.
June 21st—Thursday
Yesterday morning, Godfried and I went with our wheels to Staten Island to do some riding and also to visit Josie. We returned this afternoon. Had a lovely time. We rode quite a distance on the island, yesterday, and spying an inviting cherry tree, with rich fruit, along the roadway, we halted and were soon so preoccupied with eating that we became oblivious to everything else but cherries.
On arriving home was happy to find, as I surmised I would, Miss Anna Lee present.
She said to me on Tuesday last when I was down to her house giving lessons, that she would be out one day to give Mamma the pictures taken on last Decoration Day at Highlawn Woods. She had the pictures and they were good. Have been discouraged with my own attempts at portraiture of last Decoration Day. I had Miss Lee pose several times at pretty places, and when I came to develop the photos, there was not a trace of her to be found on any. Imagine my anger and disgust! Could it possibly be an ill omen? Must banish instantly such thoughts. Am resolved to soon make another effort at getting her picture, and shall have it then—--or burst.
Rode down with Miss Lee to see the new house they have rented on 78th St. and then saw her part way home. We rode along Ft. Hamilton Ave. to the Park and then through the same. Part of the way we walked, and went down 14th St. I left her at about 7th Ave
Godfried and I took tin-type pictures at South Beach yesterday, and in showing them to Anna Lee, she asked to have one of mine, which I couldn't refuse. As we left our house though, I asked to carry it for her, hoping she then would forget to get it back. I was no sooner beginning to enjoy the success of my scheme, when she returned, after we had parted, and called for the picture which I then gave up.
June 24th—Sunday
Mr. Woodman has left town, and I have full charge of choir and everything. Music very good today, and I was well satisfied. This is the last Sunday for the choir before vacation. Met Miss Anna Lee by appointment tonight at Court St. and 1st P1., and we went to church together. Walked with her home—very enjoyable. Her folks will move this coming week to Bay Ridge—7Sth St. between 3rd and 4th Avenues. Am looking forward to a very pleasant summer,
June 28th—Thursday
Mrs. Lee and Anna had invited me last week to stop in today and see the new house, and have a cup of coffee with them. Stopped in accordingly today, and found Anna Lee alone, her mother not having come out. Miss Lee was not in the best of spirits as their old landlord, when informed of their leaving his house, two months after May 1, had threatened a law suit. Was shown about the house and then left shortly.
July 1st—Sunday
Played the two services at Emmanuel. Going home, at 36th St. Union Depot, met some friends from our church, among them Mr. Lee and Miss Anna Lee, -and Mr. and Mrs. Hanson.
July 4th—Wednesday
Awfully warm day. John and I went to the Armory on Simmer Avenue where the singing contest of the German Societies for the Kaiser prize took place. The Brooklyn Anon and Philadelphia Choir were the leading organizations, especially the latter. The song they each and all sang was "Das Deutsche Lied" by P. Tassbaendero Words were by Adolph Hachtmann.
The Sunday School of our church had a picnic in Prospect Park today, After just getting there, and having partaken of some lunch, t~hanks to the hospitality of Mrs. Louis Larsen, a heavy thunderstorm set down upon us. It lasted over an hour. We were sheltered from the rain though, and after it had subsided we were soon found playing games on the lawn. Most of the choirmembers were present, including my good friend Godfried with his fiancee, Miss Olsen. Miss Anna Lee came on her wheel, and joined us in some of the fun.
July 5th—Thursday
Longing very much to see a little friend who has ever been dear to me, though more so now, I took courage and rode down to the house on my wheel, and was most courteously received by mother and daughter. After spending a pleasant time at the house, and partaking of coffee and cake, I took a ride with the Miss, and had in every sense, a "sweet" time.
Aug. 3rd—Friday
Sunvner has been very pleasant so far. Have had many rides with Miss Lee to our mutual pleasure. Our ride today though, eclipsed all former ones in point of f1oveline,~t', The day was ideal and we were both in the best of spirits. This was a sort of "wild ride", for leaving the boulevard, we passed over unknown roads and lanes. We passed cultivated fields and farms, and had a jolly good time.
Aug. 5th—Sunday
First Sunday of my vacation. We were all by invitation at Leets for dinner, and spent the rest of the day there. Had, as usual, a very enjoyable time. There was an amusing incident between flue and Mrs. Lee and me. I had picked up a potato which I had accidentally stumbled over in passing a potato field. I gave this to Miss Lee who boiled it. Today we each had half, which tasted good.
Aug.l5th.— Thu
Miss Lee called this afternoon, and brought up a lovely cream cake which tasted very good. We had a good ride together. Am preparing today to go to the country where I will perhaps only stay a week. Have decided to go to White Lake, New York.
Aug. l6th—Thursday
Left this morning for White Lake by way of Ontario and Western R.R. Enjoyed the trip very much. Met Mr. Maas, the proprietor of Sunset View House (where I am staying) at Liberty Station, and rode with him almost 13 miles to get to the house. The place is new and nicely situated and the surrounding country is very beautiful.
Aug.l8th—Saturday
At the request of a 7.1mg lady friend, made before leaving Brooklyn, I wrote today from my far away place, a letter with friendly greetings and regards. Like this place so very much, but could not help yesterday feeling a little lonesome.
Aug. l9th—Sunday
It seems particularly strange to spend a Sunday so far from home. Have met some very nice people up here, which helps to make the stay more agreeable than it otherwise would be. They are Mr. and Mrs. Lundgren with their two sons. Mr. Lundgren is an especially nice and friendly gentleman. He is a Swedish attorney with an office in New York.
Today, I again took a long walk which led me through a very picturesque country. There was especially a large tract of woods which interested me, and which was the place of devout reflection and meditation. I am more aware now than ever of the wonderful influence Nature has on the human soul. How nice it is to spend an hour or more in a quiet, breezy wood. It is something so unearthly, so divine. The serene atmosphere which pervades the forest with all its wild bird lays and twitterings, and with the more dignified and solemn strains of the breeze swayed cedars and pines, is indeed imposing. There is something here that lifts the soul into a higher realm— — to God. It seems so very natural here to commune with the Creator, and the soul does so even before the mind is conscious thereof.
It was therefore my privilege, on this ideal Sabbath day, to spend some time in this cool, shaded and peaceful woods, alone with my Maker and Father, invoking his Grace, protection, and guidance for the future as well as the present. I had also a special plea, which was again presented at this place, humbly but with warmth. And will not God the Father of Love and Mercy hear?
Aug. 22nd—Tuesday
With two friends who are stopping at the house with me, I took the 2 1/2 mile walk to White Lake. We spent an hour on the beautiful lake and all told had a very good time. I took some pictures. Visited the Post Office before returning, and received several letters and papers. Among the letters was one from my little friend in answer to my letter of last week. Black Lake which was not far from the house was the scene of some rowing and fishing during my stay up here, much to my enjoyment.
Aug. 23rd.—Wednesday
Arose and had breakfast early this morning in preparation for leaving. Was surprised and honored to find the whole household up very early to see me off. My stay has been most pleasant, but for some reason, or other I was exceptionally happy to turn my steps homeward. My trip home was pleasant, but devoid of any special incident, and I reached home in good time for supper and received welcome smiles from my folks.
Aug.24th—Friday
Called at Lees' in the evening. Met Henry and Anna. Spent an hour or so on the porch
Aug.26th—Sunday
All of us down to Lees'. Had a splendid time. The Male Chorus met and rehearsed for the church evening service.
Aug.29th—Wednesday
Gertrude and I went to Staten Island to visit Josie and stay a few days.
Aug.3Oth—Thursday
Had a good time at Josie's. Alfred came in the afternoon and left for home with Gertrude in the evening. I took some pictures in the garden.
Aug.3lst—Friday
Took a bath in the bay with Mr. Axel Bie in the morning. Miss Anna Lee came over to Staten Island this forenoon by invitation. Met her at South Beach as she came in with the little Ft. Hamilton Ferry, and escorted her first home to Josie. After luncheon, we had a most charming ride together over the lovely winding roads and through the beautiful country of the island. After returning to Josie for dinner, and having a short but pleasant time with her and Oscar, we returned by way of the little ferry from South Beach, which took us tonight to Bath Beach. From there we rode home.
Sept. 7th—Sunday
This is my last two—service Sunday at Emmanuel, Like the work; choir has done well. In the afternoon, I called down 7th St. to Lees' where I spent an enjoyable afternoon. In preparing to leave, Mr. Lee made,what was to me a very agreeable proposition. He suggested that I stay for supper, and he would then go with me to the evening service in my church. I accepted with thanks, as it was just what I wished that he with his daughter should come alomg with me. Miss Lee was, for some reason or other reluctant about going, but finally did. The service was a good one and Mr. Lee was very much impressed. So the evening became very enjoyable to all of us.
We conversed in the (trolley) car about Anna's Christening day. She gave me the date today, July 27, and as near as I can come to it, I believe it to be the very day on which I first attended church in this country. The church in question is The Norwegian Seamen's Church on William Street in Brooklyn. How wonderful that at my first church attendance in this country, that Soul, which I have grown to esteem highly, should be brought into church for the first time, and Christened in my presence.
With Anna Lee, I have had many rides this si~nmer. It has been a surmner of the greatest pleasure for me. We have had many a ride along Shore Road in Bay Ridge to Ft. Hamilton, and along Ft. Hamilton Avenue to Prospect Park, along the Boulevard, out in Bath Beach, etc., and I sincerely regret that no diary was kept so the dates could have been preserved and the events recorded. However if dates are somewhat forgotten, events are not, and I earnestly believe that memories of the happy incidents of this summer, of which I now am writing, will ever remain fresh in my mind. It will ever be a source of joy to revert to them.
I have called on Lees once weekly for their piano lessons, except last month. All of these calls were most pleasant. I was always treated with refreshments of coffee and cake, and almost invariably took a ride with Anna before going home. Aside from these, there were other calls, and several times we accidentally met awheel, all of which added sport and charm to the summer frolic.
One of the most charming of chance meetings I cannot pass in this connection, though the date is unfortunately lost. 'Twas early one evening. I had been down Shore Road watching the sunset—which, by the way, was a favorite pastime with both of us, as we often chanced to meet at that hour and place. I was returning by the usual way of 79th St., in a mood of disappointment, when to my intense joy, I spied a girl on a wheel turning into 79th St. from 3rd Ave. A second look and I was convinced. It was
That second look I only got as she hurriedly rode past me, riding on the sidewalk, and so preoccupied that she did not observe me who rode in the street. It was dusk, and being assured that she had not seen me, I turned my wheel to follow her. I gave her a good head start and kept well in the rear, taking no chances on being observed. Then after, in the twilight, losing sight of her, especially when she rounded the corner at Shore Road, I had to get on some speed. I rode hard and fast before I could make out her figure again. On we rode, she never suspecting that I was in her wake. As she reached the crest of one hill, I was on the summit of another. she would be coasting down onw side of a hill while I would be climbing the other.
Gee! What a rider you are, Anna, I never thought you could make such a showing! How those little feet can peddle up those huh! I felt keenly the spirit of romance, as I was thus heatedly pursuing the lady of my love; straining my eyes rather strongly at times in the ever increasing darkness, in my efforts to distinguish the flying subject of my chase. Finally Ft. Hamilton is reached and my friend turns into the avenue, and in doing so, she unconsciously fooled me. Having admired her skill in riding, I no less admired her bravery in riding alone in the dark. Therefore I thought that perhaps she would not hesitate to ride home by way of Ft. Hamilton Ave. even though it was more lonely than Shore Road. I therefore hurried along so as not to lose sight of her, and as I came near the curve, I was surprised to see her round it on her return stretch. She had evidently only turned into the avenue to turn her wheel. She then bore right down on me, and as a great deviation from my course might have looked suspicious, with my cap down over my eyes, and my head somewhat lowered. But to no avail. She had seen me, and uttered my name as I passed, which however I appeared not to hear. But my little game of "incognito" was spoiled. I rode straight along and on Ft. Hamilton Ave. rode slowly, until I felt a tap on my hind wheel—and turning saw the form and even features of the girl who has so mysteriously laid hold on my affections.
And so, though there would have been lots of fun in my little game of"seeing but not being seen", it was no less of a delight to meet her, see her at close range, and speak to her. We both heartily laughed and enjoyed the joke of my miscarried plans. It is needless to state that we took a further ride together, to our mutual enjoyment. Before we were aware of it, the moon, full and silvery, had made its appearance in the sky, sending down its soft and lovable rays of blessing and Godspeed, which appeared to me indeed as a token of divine approbation.
Sept. 2.th—Thursday
Mrs. Lee's birthday. Male Chorus came out late in the evening and "serenaded" her. The surprise was complete, Mrs. Lee never knowing until all the men started up a loud and bright song from the parlor. On her coming down, a few words were said, and a beautiful palm plant presented. Mrs. Lee thanked them warmly. A good time was then had amid which refreshments were served. Was after twelve before all left.
October 21st—Sunday
Memorable day—good times. As had previously been arranged, Anna Lee came to my church in the morning, and we went to Montclair together. We visited Misses Anna Gunsten and Anna Jacobsen, and were there for dinner. In the afternoon, we had a nice walk together and then attended the service in the Congregational Church. Met there Mr. Ives now of the Austin Organ Company, and organist of the church. I saw and tried his wonderful new organ with all its modern appliances and inventions, and marvelled at its beauty. Leaving the church, Anna and I took the train for New York where we had supper and later attended the. concert of John Strauss Vienna Orchestra at the Metropolitan Opera House. Came home very late. The day was a most enjoyable one and the weather was ideal.
November 1.th—Saturday
Ever since the charming bicycle ride Anna Lee and I had at Staten Island, we have been looking forward with great pleasure to one we then agreed on taking in the fall, when the leaves would be dyed and beautiful. It was to be the closing one of the season.
Instead of taking this ride on Staten Island as was first thought of, we went with our wheels to Montclair, N, J. where we had in ~every way a charming time. Ater taking lunch with Misses Gunsten and Jacobsen, we set out wildly to explore the country. We rode along many beautiful roads, and through a very picturesque country, and finally landed on the summit of Eagle Rock. Here were also our "hosts", Miss Gunsten and Miss Jacobsen. The view from there was most imposing, and we were greatly charmed with its beauty.
Leaving our friends, we rode on further, and returned to the rock as darkness was fast setting in. It was only with great difficulty that we were able to fumble our way through, along the narrow and twisting and turning paths whidh led down to the foot. We got there finally in good style, none the worse off for our experience. Took supper again at the girls', and after a very pleasant little stay, took the train for home. The day was at outset somewhat cool and windy, but became more agreeable as it went on.
Nov. 11th—Sunday
Lived today in the peaceful and charming atmosphere of the happenings of yesterday. My little friend caine over late in the afternoon and we went to the concert of the Norwegian Singing Society at Laingerbund Hail, Brooklyn. Concert did not begin until late, and in the meantime, we went out for a stroll and walked a few blocks. Came home very late, as the last number of the program was one my own choir is to sing at our concert this winter.
Nov. 14th, 21st, 28th
Heard, with Anna, lectures given at the Baptist Temple, by Rev. Cortlandt Myers on "Athens", "Rome" and "Jerusalem". These lectures were finely illustrated and very impressive and entertaining. We met in the Temple each evening, and though having tickets for widely separated seats, by courtesy of the ushers, were permitted to take seats together.
Nov.29th—Thanksgiving
Anna attended service in my church this morning. Saw her home. In the evening, the Norwegian Benefit Association had an entertainment at Hartungs Hail, 19th St. Brooklyn. Choir sang many songs well. Alfred and I played piano solos.
Nov. 30th—Friday
Anna and Mrs. Lee visited us this afternoon and we spent an enjoyable time together. Saw them home to 78th St. Anna received the permission of her mother, and we took a walk in Bay Ridge in the evening, and had a lovely time.
December 24th
The year and century is nearing its close. It has, everything taken together, been a most pleasant year for me. During the month I have been with Anna a few times, but we are both busy; I with my work, and she with her school studies. We sent Alfred down to the house with a few insignificant gifts. Late in the afternoon, Josie, Oscar, the children and Miss Die came from Philadelphia to spend the Christmas holidays with us. We were most happy to see them and will enjoy their stay.
December 25th—Christmas
Almost all of us attended Heggets' church this morning. Oscar, Miss Margaret Bie, John, Alfred and I walked to the church by way of Greenwood and paid a visit to Agnes' grave. It looks well cared for. On last Sunday Anna and I put a wreath of evergreens on it. Service in church was very impressive. So nice to attend a service in my own church for a change. The Male Chorus was there and sang one of my compositions with great success and enthusiasm. This song I wrote earlier in the month after unsuccessful attempts to find a suitable Christmas song. They also sang "The Heavens Declare" by Beethoven. No one but the Male Chorus knew that the first song was my own. I enjoyed the secrecy, Wanting, for the fun of it, to know Rev. Heggets opinion of my song, I asked him what he thought of our Christmas song. He was very complimentary, which meant a great deal, coming from him who never flatters. I was greatly amused by the fun, and pleased that he liked my song better than the Beethoven.
As we came from the car on our way home, I spied Anna and Helen Lee. I hastily caught up to them and we exchanged Christmas greetings. They had been over to the house—and also to church, but had left early with Christmas gifts. I was very happy to find that Anna had brought and given me a beautiful painting of pansies in a lovely frame. I indeed felt proud of it, and I remembered that some years ago, Anna had promised to paint a picture for me. She has since referred to it several times but has not taken any painting lessons for some time. The pansies are artistically painted, and will be a source of pleasant delight to me.
Dec,26th—Wednesday
Called on Anna this afternoon and spent the afternoon with her in her parlor. We had coffee together, and had a nice time, In the evening, again we met at the Norwegian Seamen's Church, where there was a Christmas festival for the seamen. I presided at the organ, and my Male Chorus sang. Very enjoyable.
Dec. 27th—Thursday
Young people's society of our church had a Christmas tree festival. Josie was there.
December 29th—Saturday
-




Anna has now been with us in the choir about a month and a half. Her presence has made the choir meetings doubly interesting to me. I have generally seen her home after rehearsals. Did so tonight, and we took an extra walk down Second Ave. Went a step further tonight than I dared to go on Nov.lOth last, Took and made a vow! The most charming music I have ever heard was the silvery utterance of the all—important "yes".




God bless that angel of a Soul, and make our future happy and blissful. May He stamp His divine approval on our agreements. Have for quite some time laid this solemn matter before my Lord and Savior, and have petitioned Him for wisdom and guidance. I have begged Him not to suffer anything to take place that is not in accord with his will. And though I will further pray for light, yet am I made to believe that He graciously approves. May I further learn to thank and praise His holy name for all his Fatherly mercies, And may I in return for His blessings, become more consecrated and devoted in life and work. . Lord, bless thou Anna, my beloved, and me, I htmibly beseech!




Our engagement, however, is to be kept secret for the present. Though I would have scorned the idea, a month or two ago, of having any such understanding with the girl, without first having laid the matter before her parents for their approval, yet have I been made to take the step, in consideration of our mutually apprehended love, and the evident friendliness of her folks, and because of the delightful idea of stepping over the threshold into the new century ~"hand in hand", and with heart beating for heart. In other words, making a contract in the old which was to be lived up to in the new century.




I will, at the proper time, lay the matter before her parents, In the meantime, our understanding will be preciously safeguarded against publicity or curious "busy

~ Anna's youth, sixteen, is the principal reason.



Dec 30th—Sunday
Live most happily in the memory of last night. Josie and Miss Margaret Bie attended the service in my church, Emmanuel Baptst, this forenoon. It was our Christmas service and was very fine. Church most handsomely decorated, Music good. Gave a goodly portion of St. Mary Magdaline by Stainer, and other things. Home for dinner. We had all been invited to Lees' today, so we went there in the afternoon. They had expected us for dinner, but owing to a misunderstanding, on my part, I think, we thought it was the afternoon.
Oscar is in Philadelphia busy looking over the stock and books, to have everything in hand for the yearly report. Had a very good time at Lees'. They had some other friends there. It rained hard going home, and we were unfortunate with cars. Manna and Josie stayed at home all day. Little Eleanore was indisposed.
Dec.3lst—Monday
Anna and I spent a lovely time together this afternoon. Had a good walk and conversation. "~Jake Meeting" was held this evening in our church. Mixed Chorus sang. Anna received my first New Year's greetings. The meeting was impressive. Left the old and entered the new year and century with devout prayer. The Lord hear my humble supplication for His name's sake.
* * * * * * * * * * * *
1901
January 1st—Wednesday
Josie left with the children and Miss Die, for her home in Philadelphia, yesterday. Wonderful, to know that we have now entered a new century. We have witnessed its entry, but shafl never see its departure, Only the memories and history remain of the old, but who can foretell anything of the new? It stands before us as a vast impenetrable mist. What unlooked for events and happenings will take shape in the future, and emerge into view?
"Lead, kindly Light, amid the encircling gloom, Lead thou me on;
The night is dark, and I am far from home; Lead thou me on.
Keep thou my feet; I do not ask to see
The distant scene; one step enough for me.
I was not ever thus, nor prayed that thou shoudst lead me on;
I loved to choose and see,my path, but now Lead thou me on;
I loved the garish day, and, spite of fears,
Pride ruled my will: remember not past years.
So long thy power hath blest me, sure it still ldill lead me on,
O'er moor and fen, o'er crag and torrent, till The night is gone;
And with the morn those angel faces smile
Which I have loved long since, and lost awhile,"
by John Henry Ne~.mtan
Service in our Norwegian church this forenoon, but having come home late from Wake Meeting, we slept a little longer than usual, and thus did not go. John, Alfred and I took a walk late in the forenoon, and stopped in to see the Hansens on 6.th St. and greeted them. Andrew called in the afternoon.
Novello, New York,sent me notice of an Organ Recital to be given this evening at St. Bartholomew's Church, New York, by Edwin H. Lemare of London, England. Late in the afternoon, I called at Lees', 78th St. and invited "the old man" to the recital. He felt indisposed, but Anna came along. Poor girl! She had been waiting all afternoon for me, and yet tried to concentrate on her high school lessons, which must have been difficult.
The organ recital was exceptionally fine, and indeed the organ music, which thrilled me again and again, was heavenly. But could the music be anything but beautiful with the Angel of my love at my side? We came just a little while before the program was to start, but all seats appeared to be taken, and people were standing in the back. Happily, one of the ushers, Mr. Ives, spied me, whom he knew, and very courteously beckoned for us to come up front, which we did. There we got a lovely seat in the immediate neighborhood of many distinguished organists— Woodman, Morse and many others.
My dear friend, let me put down for the humor of it; having been up so very late last night, and studied during the day, was naturally a little tired. As the rich strains of Bach's 1) minor Toccata and Fugue rang out, to the immense enjoyment of us all, her head became a little unsteady and began gently to bend forward, as if in an effort to better listen—How it carries her away, I thought. But presently it was raised again only to gently descend a few times more. My beloved darling had slept at my side! My sweet friend how I do love you!
Jan. 2Oth—Sunday
Male Chorus had a rehearsal at Mr, Lee's house. We had a most lovely time. Anna and I attended service this evening at old Plymouth Church, B'klyn. Good time,
Jan.23rd—Wednesday
This has been a very busy month -for me, Aside front my regular work at Emmanuel, my teaching, and private study and practice, has been the arduous labor of getting the choirs in shape for the concert on Feb. 21st.
Jan. 27th—Sunday
The Male Chorus met again for an extra rehearsal this afternoon at William Johanneson's, 67th St. and 12th Ave. What taxes most of our efforts is the difficult Pilgrims' Chorus from Wagner's Tannhauser. It's going to be all we can do to get that in shape in time.
Was to have gone, as usual, to some downtown church in the evening, but losing some time on the way, I decided to step in to my own 27th St. church, and meet and see home my good friend. I was delighted to see among the group of ladies on the platform, the dear face of her whom I adore. Did not get a chance to see her home, though, for not wanting to walk with her openly in the crowd of friends and acquaintances, I expected to meet her at the 25th St. station, but on arriving there, the bird had taken flight". And how disappointed I felt.
Jan.29th —Tuesday
Have finally agreed with Anna to send her a letter occasionally. Sent the first today.
February 3rd—Sunday
Praise service at Emmanuel tonight. Learned authenticafly from Woodman (though not officially) that there would be a change this spring. Trustees had agreed on that. That will leave me in a hole unless, as I hope, something else turns up. Many friends were at the church tonight. I delayed a little with Woodman, and sent word to my friends not to wait for me. As soon as they had left, I met Anna on Washington Ave. by appointment and saw her home, Enjoyed the sport.
Feb. 7th—Thursday
Mamma's and Papa's wedding day. Oscar and Josie in Philadelphia. As I came from my church, I met Anna. at the Bridge St. station on her way home front school. I have had this same pleasure a few times before, We sat in the car together and had good company to 36th St.
Feb. 8th—Friday
My birthday. Have now reached the mark of 23. Am no longer a boy, though I feel like one. In the afternoon I gave the regular weekly lessons at Lees'. In company with Anna, I went home and after staying a little while, I saw her home again. I hoped she would return with her mother in the evening when some more friends were expected. Besides congratulations and 23 "____ n, Anna presented me with a beautiful inkwell. Her mother congratulated me also, when I was at their house, and gave me a very pretty card, which now decorates one wall in our parlor.
As the Male Chorus at this time needs a few extra rehearsals, I invited them to have one tonight at my house. The fact of it being my birthday leaked out, however, from some of the members who had been in on former surprises for me. When the Male Chorus came tonight, they presented me with a beautiful opal ring. The chairman, Christian, made a very nice speech for me, at the conclusion of which the ring was presented and placed on my finger. I responded and thanked them most heartily. Indeed I think it was very nice of them. After spending a pleasant evening, our friends left at a late hour.
Feb. 9th—Saturday
Called on Anna. After taking a walk, and after a pleasant stay, we went together to choir rehearsal. Partook with Anna, this afternoon, of a most delicious cream cake trimmed with orange pieces. Mrs. Lee had made it expressly for me and was to have come up with it last night, but didn't do so.
Feb. lOth—Sunday
Both choirs had rehearsal in church this afternoon preparing for the concert which is now near at hand. Male Chorus met first, then the mixed choir. After rehearsal Anna and I (unobserved__met her at 39th st,) walked all the way to her house on 78th St. Walked up 39th St. to Ft. Hamilton Ave. and along there to 79th St, and then down to 4th Ave. The day was very cold, and the fingertips of my little friend, though protected by gloves, suffered somewhat • We stopped in for a moment at the new little waiting room at Bay Ridge Avenue. Here, to our amusement,a button became loose from my trousers and dropped on the floor.
~arth is decked most becomingly in white. Snow which fell last week is as yet undisturbed by any sudden rise in temperature, On coming to Anna's house, I was most warmly received by the folks. After partaking of a tasty supper, which included a piece or two of "my" cake, and having a pleasant little chat, we all, Mr. and Mrs. Lee, Anna and I went to church together. It was a most happy little party. Mr. Lee took care of his wife and left the daughter in my charge.
Feb. 15th—Friday
To prayer meeting as usual this evening. Dr. Humpstone requested that I wait as he wished to speak to me, He was very friendly this evening and assured me of his support in any endeaver made for a position. He told me I could refer anyone to him, and he should give me a worthy testimonial, setting forth my strong points, He would also be glad to help me in any practical way, and assured me that he would be glad to do anything for me that might serve the desired end.
He regretted that circumstances were such that I must leave, He said they would have been glad to give me the position, but they felt that I lacked "executive ability". He spoke most highly of my organ work, and said I had made "great strides". He mentioned especially my hymn playing, saying he considered me as equal with Woodman, "which", he added, "is saying a great deal, for I consider him a master in this". The doctor said he understood perfectly my position, and the difficulties that I faced. Being a subordinate, naturally I could not inspire the confidence and exert the influence over the choir which I could in another position, he said with all sincerity that he could see that I had the qualities of a great organist, and even said that some day I might even rank with the greatest of my profession.
The above is a great deal, coming as it does front a dignified and conservative Doctor of Divinity, who is not given much to compliments, I thanked him most heartily, feeling greatly encouraged and cheered. Though I do not usually "air" the nice compliments that from time to time come my way, yet I put this down here that my own eyes may run over them in times of discouragement. As Prof. Huxley says, he uses all nice sayings and compliments "as an antidote for the blue devils". Met my dear friend on Bridge St. station, where she had gone to meet me, and had the pleasure of a good time with her as we journeyed home.
Feb. 17th-Sunday
Rehearsal in church today again. After rehearsal, Anna and I played a most amusing trick on our friends. We walked out in a group, in which were John, Alfred, both Andersens, Miss Anna Gunsten and Miss Anna Jacobsen, to 36th St. station, where we parted, Anna as if taking the elevated train home, and I walking back with the Ander.-. sens for a few blocks. Suddenly, pulling out my watch, I discovered I would not have time to stop in to anyone for supper, so I left them to take the train. Everything worked most splendidly, and in coming to the station, I met Anna as had been arranged. We went down town and took supper at the Bristol Hotel Restaurant. We enjoyed fully the laugh we had on our friends, and the meal tasted good. My dear friend looked most beautiful as she sat across the table from me. Taking a Fulton St. trolley, we went uptown and attended service in the New York Ave. M.E. Church. Met and spoke with Mr. Tyler, the organist.
Feb.l9th—Tuesday
Final rehearsal of Mixed Chorus tonight. Miss Elsie Ray Eddy, the soprano who is our soloist for the concert, was present with us. Toliefsen quartet was to have been present but two of the members were unable to come. After months of work, I finally see that I cannot get the Mixed Chorus to where I want them. It is discouraging.
February 21st—Thursday
21st at last. Have all winter looked forward to and prepared for this date. Met Carl Toflefsen in forenoon, and after a visit to Hegge's, we went over to Mrs. Kitel's to rehearse, as the church was somewhat cold. After playing a good deal together, we, upon invitation,stayed for lunch, and had a jolly good time. Our great concert came off in the evening, Success beyond best expectations. Church was crowded although the price of tickets was fifty cents—higher than ever before. Program was a success. Male Chorus did very well; Mixed Chorus fairly well; Miss Eddie sang nicely; Tollefsen played well—though not his best, and his quartet the same.
One of the delights of the evening was an address by the pastor of my former church, The Bedford Presbyterian, the Rev. Wm. J. Hutchins. He had very kindly consented to speak, on my invitation, and his theme tonight was "Music in relation to Liberty"~
They received a telegram of congratulations from
After an introduction by Pastor Hegge, Mr. Hutchins walked over to the middle of the platform and opened up by saying that since the evening was given over to a program of such good music, he felt almost like an "interloper't at being there tonight. But he said he had come at the invitation of "your good and able leader, Mr. Munson, and his wish is my law". Before going to the subject proper, he said some flattering words about our good music and program. His address was very able, and in the course of his remarks, he spoke nicely of Norway as "the land of the snow—capped mountains and the many fjords; the land of the midnight sun". His address proper, the essence of which was music as a liberator, I shall not try to give here. "the true musician, I say is indeed a liberator".
After the concert, the choirs and friends and also our guests this evening, Mr. and Mrs. Hutchins, Mr. and Mrs. Eddy, the members of the String quartet and Sextet, went downstairs. Seated around a long white prettily decked table, we partook of good refreshments. -
Had a most lovely time. Everyone enjoyed it, and this will, remain in memory one of the nicest affairs we have had in our church. I was most happy to have the folks from my former church present. They heartily expressed their pleasure at being present Mrs. Hutchins, who is a most lovable lady, also expressed her pleasure and spoke to me of the similarity of Hegge to Hoffman's painting of Christ. They both thought most highly of him.
My own dear friend made this concert brilliant for me by her presence and participation. She was dressed in a new black well fitting skirt, and a very rich white waist, and appeared most sweet, as we imperceptibly (I believe) "flirted" across the tanle. The concert will net us over $200 surely, -
Feb. 22nd—Friday
Very glad to be through with the concert and have that off my mind. Am most happy for our brilliant success. Called at Lees very early this afternoon, and after the lessons walked with Anna to Prospect Park, It was a little cold, but we had nonetheless a most charming time. We took coffee in the Flower Garden Restaurant, and a little later retreated to a little hill, where we had a lovely time. Anna's feet suffered a little from the cold, but she would not let that prevent our good time. I left her on the elevated station in time to go to the prayer meeting of my church.
Feb. 23rd—Saturday
Before going to choir rehearsal tonight, I walked along 3rd Ave. in hopes of meeting Anna, but she had left for the city earlier, so missed me, Met her of course at choir rehearsal. This was held at Martha Swenson's on 17th, St. We had a nice rehearsal with refreshments served. Met Anna on the 16th St. "L" station and saw her home. The snow had begun to fall gently during the evening and we walked from 65th St. along 3rd Ave. on the beautiful carpet of snow.
Feb. 24th—Sunday
Anna came to my morning service.
Feb. 25th—Monday
Many friends came to the concert in the Academy of Music. Saw Anna home late,
Feb. 27th—Wednesday
Called on Anna in afternoon and we took a long walk to Bath Beach. Walked into the "wilds" of the place, and after having rested a few minutes at a quiet place, we wended our steps homeward. The evening was cold, to an extent, and my friend's little feet suffered some, unfortunately. Had a lovely time.
March 1st—Friday
Gave Lees lessons in the afternoon. Had coffee as usual and had a very good time. Played checkers and stayed for supper. Then left for the city with Mr. Lee, who left me at 9th St. Met Anna at Bridge St., on returning and enjoyed her charming society on the way home.
March 2nd—Saturday
Last night after choir rehearsal, Anna, Miss Gunsten and I had company on the "L" train. Saw my good friend home and enjoyed the usual delights.
March 3rd.—Sunday
Had a good service in church this morning, Praise service in the evening. My friend was there. Good time,
March 5th—Tuesday
Received this morning a beautiful, and warm letter from Anna, her "first". In Park Row, New York, today, I was quite surprised to meet Peter Andersen. We took lunch at Dennett' s, and then went uptown to an organ recital.
March 8th—Friday
Gave Lees lessons in afternoon. Good time. Home for supper then to New York Ave. M.E. Church and played for the committee. Male Chorus was at Hegges'. I came there late but managed to get some good out of it, Carl Tollefsen there.
March 10th—Sunday
Anna and I attended service this afternoon at First Pres. Church, Went to Bristol's for supper after which we took a walk, and then went home. Anna had intended to go to our church in the evening, but as it began to rain, changed her mind on the train, and thus we both came home at an early hour,
April 22nd—Monday
Things are again quiet in the Male Chorus after the rather severe storm of the last few weeks. I carried my point before, I only asked justice and no favors. Cause of the unfortunate misunderstanding is due almost entirely to short—sightedness and lack of consideration. I have not charged malice or envy.
April 24th—Wednesday
Have for weeks worked hard preparing for the recital which comes off tonight, It rained hard an day. Rested in afternoon and hoped for clear weather in the evening, but was diappointed as the rain caine down in torrents, Consequently the audience was small, although it appeared large, considering conditions. Dr. Hempstone came with the idea of postponing the recital a week or so, and after considering this a moment, decided to do so. He made the announcement from the pulpit. I was not going to send away the people who had braved the weather, however, so I played. I had the doctor announce, along with the postponment, that I would play Sonata No.Vl by Mendelssohn, and also the little "Andantino" by Lemare. After the people had left, I had the organ loft janurted with friends, and played for them almost the entire program.
April 27th—Saturday
Saw Anna in afternoon, Sent telegram of congratulations to Josie, which however did not reach her in time. Lees are preparing to move downtown again. Anna and I are very sorry as it will distance us somewhat, but we will manage to make up in some way. We look forward to the coming summer with great pleasure and expectation.
Since tonight is the last time I would see her to her Bay Ridge home, on 78th St., the house which has been so dear to me, and where I have had so many a good time, we decided to walk home from church after rehearsal, This we did, I met her on 39th St. and we walked up to and along Ft. Hamilton Ave. through Highlawn Woods, where we lingered a moment, and then home. On coming home rather late, I was not a little surprised to find Josie and Oscar in the house. They had come from Philadelphia in the early evening.
April 28th—Sunday
Played my last service as organist or assistant organist of Emmanuel Baptist Church, B'klyn. My time is up. Said Goodbye. Have at present no church of my own but feel contented, believing I soon will get some position or other, having laid my case before my Lord. My sweet friend was present today as a consoling angel.
Expected the Lees up in the afternoon but they did not come. Oscar leaves early tomorrow morning, but Josie will stay over a week. Miss Bie, the younger of the children who stopped over some weeks ago, is with her older sister, Margarite, speeding on her way to Mobile, Alabama, where she will meet her lover and marry.
April 29th—Monday
Mamma, Josie and several others were at Inga's today. After practicing some hours at Emmanuel, I stopped in for a while. Mrs. Lee and Anna had called at the house, only to find everyone out, which was most unfortunate.
April 30th—Tuesday
Am- working awfully hard preparing for my recital. Merkel's G minor Sonata gives me most concern. I feel confident though of success, Received a letter from Anna saying, in reply to my asking if a farewell call at the house before moving would be agreeable tomorrow afternoon, that a visit would be "most agreeable".
May 1st—Wednesday
Had a nice time at Anna's in the afternoon, Took some pictures and took a sad leave of the house whose doors have so often swung open for me, whose rooms were ever a place of warmth and sunshine, and whose apartments were graced with the living presence of my dear one. Took a glance at the upper window—alas, how often have my thoughts been centered on that little four—walled room, how often have I been there in my dreams. How many hours have the object of my love here spent.
My organ recital came off very successfully tonight. I believe I played well, and with confidence, Mrs. Wernschenk sang well, as usual,
May 5th—Sunday
Missed my church work today. Had a most heavenly time with my sweetheart this afternoon. Met her on Bay Ridgs Ave. near 4th, as appointed, and had a good stroll down Bay Ridge Ave., and along Shore Road. We found a nice quiet place right near the water, where we sat down on the grass a while and where I took some pictures. Leaving here, we went home finding only the old folks there. We took supper and then went down to church where the Male Chorus sang. Good service.
May 12th—Sunday
Called early this afternoon at Lees' new home, 42—3rd Place. Anna's face which for some unknown reason was swollen up on one side, during the week, affecting the eye especially, was much better today, but not so that she could go out. Had planned to hear, with Anna, "The Redemption" at South Church, N.Y., but gave it up to stay at Lees' • Had a pleasant afternoon and in the evening went to church (Anna included) where Male Chorus sang at the consecration of some deaconesses. Confirmation in our church this morning. I had a quiet time with myself this forenoon, spending it in the little woods near our house, picking violets. Divided a bouquet between Mamma and Anna.
May 14th—Tuesday
Great party at Mrs. G, Hansen's in honor of louise's confirmation. Very many good friends present, and a good time was had.
May 19th—Sunday
Anna and I heard "The Elijah" this afternoon at South Church, N.Y. May 26th-Sunday
Heard and enjoyed Haydns "Creation" given at the South Church, Met Carl Poflefsen, who told me of his distasteful experience in waiting 45 minutes in vain, for a girl friend, It amused me immensely to hear his story of the day, without giving out my own, which was a perfect coincidence. I waited 45 minutes for Anna on Hamilton Ave. She had half promised to meet me. Learned later that her mother had been busy and that she therefore had deemed it best to stay and help her, so there was no reproach awaiting her from me,
June 7th—Friday
Went to Lees and gave lessons. Was to have gone to Prospect Park, but as it had rained, I spent the evening at the house with Anna instead, lovely time,
June 9th—Sunday
Andrew and Elvira came out this afternoon. Met Anna on 16th St. station and was to have gone to church, but went to the Park instead. After a little walk, we discovered a lonely and secluded hill on which we spent the evening. We had a charming time and left late.
June 14th—Friday
To Lees' early. After the lessons, Anna and I went to the Park, where we had a most bewitching time. Went out on the lake in a rowboat, and retired to what is now known as "our hill". After a charming time spent here, we walked home,
June l7th—Monday
My sweet friend's birthday today. Seventeen years old. Went down to the house in the afternoon and had a most lovely time. I presented Anna with a little pocket book and some flowers, arid Mamma sent down a myrtle...In the evening the Male Chorus met at Lees' by invitation —without knowing about the day—and had a most enjoyable time. Fine refreshments were served.
June l9th—Wednesday
Met Anna at her house on her invitation. Went to the Park and had a lovely time.
June 20th—Friday
To Lees', gave lessons. Went with them to a concert of the Swedish Glee Club. It was awfully hot, but we had a good time. Met Petersens and Mr. Hagstrom who told me of a good position he had received in North Carolina.
June 30—Sunday
Male Chorus sang in forenoon in church. All of us to ~ for dinner and the rest of the day. Other friends from the Male Chorus were present. Had a good tine in spite of the sweltering weather.
July 3rd—Wednesday
Rained part of the day. Took a hasty trip to the city and called on Anna. We arranged to go on the excursion tomorrow. We had first intended to spend the holiday together, alone, but changed our plans owing to pressure exerted by friends who wanted us along. Spent a delightful hour at her house.
July 4th—Thursday
Day looked a trifle gloomy but cleared up fine. Went with many friends on the excursion of the N.M.E. Church to River View Grove on the Hudson. Had a good time the water was nice. Most to be enjoyed by far, though, was the time (a few hours ) spent in the Grove. The first thing undertaken after landing there was a general scramble up the 3W ft. high mountain to reach the summit. This accomplished, we had a most superb view of the Hudson and adjacent country. My sweet friend and I soon found means whereby we, unobserved, slipped out of the crowd and took a quiet stroll through the woods. We found some pretty places where we rested awhile. In the serene atmosphere of the forest, with only the birds and trees as living things about, we felt our souls lifted into a higher realm of beauty and peace. God seems nearer the human heart in the quiet woods than in any other place. The soul can undisturbed commune with him.
July 5th—Friday
Had an awful thunderstorm today. There were many "washouts" on the road bed of the Btooklyn trolley cars, thus delaying the cars sometimes for hours. I had quite a time getting to the city, and had to walk the greater part of the way. To Lees', later, to give lesson arid stayed in the evening.
July 6th—Saturday
The Mixed Chorus now enjoys a vacation until September. Anna and I have decided to use Saturday nights in Prospect Park. This was to have been our first one but ...



(That here tends to enkindle the Love for the beautiful, the noble and the elevated? What is it that here present! more forcefu1ly than ever the worthiness of the striving for purity of heart and loftiness of mind? Why do the ideals, which so often seem clouded in distant mist and unattainable, here gleam forth more vivid and clear, like the beckoning light to a seaman, firing the soul to resolve on more earnest endeavor and more sincere striving?
At such moments, we bow our heads in humble sighs and whispers which we believe ascend to the Throne of Grace, and invoke God's Grace, Blessing, Power, Protection and Guidance.
"The secret of the Lord is with them that fear Mn", Psalm 25:14
Epilogue
(Marian Munson Pasquet)
Mother and Dad were married on Wednesday, September 2nd, 1903
In 1905, Dad went to Paris to study organ with Alexandre Guilmant, and piano with Morits /joskowsld.. At that time, they gave up their apartment, and Mother moved in with her parents. -
In 1907, Alexander Lawrence was born. Marian Josephine came in 1910, Henry Lee in 1911, Anne Louise was born in 1914 and Lawrence Shipley arrived in 1920. The Munsons stayed with the Lees at 4.46—8th Street until 1914, when Dada and Mormor moved to Hempstead Gardens, on Long Island. The Munsons lived at 529—9th St. for about a year. In 1916, Dad took over the Kellerman Institute Of Musical Art, at 357 Ovington Avenue. The name was changed to the Munson School Of Music.
When Lawrence was about seven years old, he had diphtheria. Henry and Anne caught it, too. Since we shared our living quarters with the school, they had to go to a hospital for contagious diseases. That was very painful for Mother and. Dad, so they decided to get a separate house for the family. In the summer of 1928, we moved to 117 Meadbrook Road, Garden City, Long Island.
Mother had only a year to enjoy it, since an automobile accident cut short that beautiful life in June, 1929.
When we were children, Dad used to say- frequently,"Aren't you glad I picked out such a good mother for you?" We are all very glad. Our lives are richer for having had such exceptional parents.